If you search this query on Google about "Freelancing in Pakistan," Congratulations, you are on the right article. Freelancing in Pakistan is growing day by day. According to 2022, Pakistan has been ranked the fourth fastest-growing freelance market. The earnings through freelancing also increased by 45%. This fastest growth in freelancing in Pakistan is due to Government policies. Some government initiatives include providing technical education to the people and the availability of 4G services in all areas, contributing much to increasing freelancing in Pakistan.
According to the National Freelance Facilitation Policy, more than 100K registered freelancers are in the country. Freelancers in Pakistan have contributed about US $ 400 Million in IT exports of US $ 2.246 Billion in the 2021-2022 fiscal year. Freelancing has become much more popular, especially with COVID-19.
Now, freelance opportunity is available in every field in Pakistan. Building an attractive portfolio for a client may take some time in Pakistan freelancing. But it would help if you kept hope. This article will explain freelancers in Pakistan, the benefits of freelancing in Pakistan, and the types of jobs a freelancer can offer.
Who is a Freelancer?
Freelancer is self-employed and works for multiple companies based on the contact. It is not bound like in 9'O clock to 5'O clock job. But it's only answerable to those clients whose orders are active. A freelancer is the boss of his world. He will do work if he wants to, and if he does, no one can order him.
Every freelancer is charging some for their services and time. There is no fixed salary in freelancing; if anyone wants to earn more, they should have to work more.
What is Freelancing in Pakistan?
Freelancing is a self-employed category through which you can sell your services worldwide. There are many websites available in Pakistan for online earning purposes. Freelancing is the best opportunity for all talented persons to earn money while enjoying home comfort. All people, male, female, students, and especially wives, can make money through online resources.
How much can a beginner Earn through Freelancing in Pakistan?
An experienced freelancer can easily earn $1000 from freelancing in Pakistan. Hundreds of thousands of freelancers provide services on many online platforms, including Fiverr, Upwork, Guru, etc.
If you are a beginner and need more experience, start with Fiverr. You should first learn and then create a Gig to get orders from Fiverr.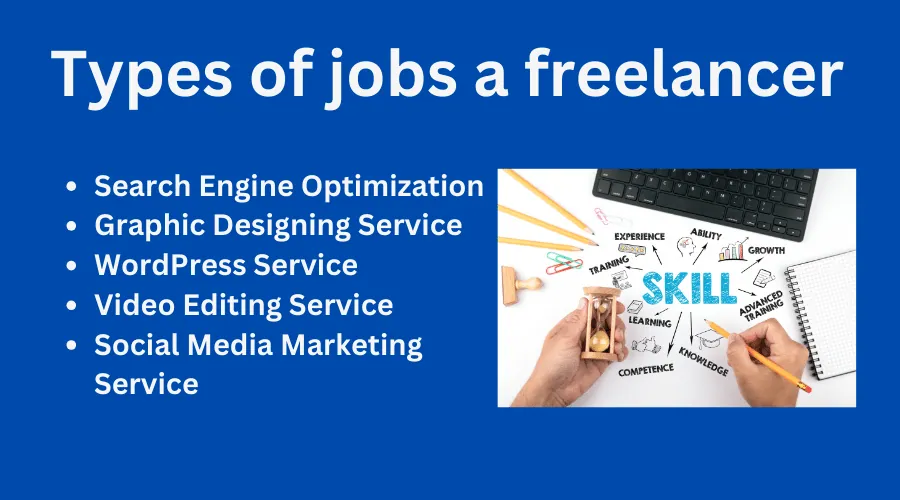 7 Tips for Successful Freelancing in Pakistan
Do beginners need clarification about freelancing in Pakistan? How to start? And where to start? Following are the 7 Tips that will be helpful for freelancers during their journey to make money through online work.
·        Build your Online Visibility
·        Signup for Freelance Marketplaces
·        Time Management and Workload
·        Regular Exercise
·        Keep learning new Skills
·        Develop Communication Skills
·        Have a Professional Attitude
Types of jobs a freelancer can offer
There are many types of jobs that a freelancer can offer. Freelancing in Pakistan is a vast field in which we have thousands of opportunities for online work. You can work full-time or part-time on freelancing websites. Following are the types of jobs that a freelancer can offer:
Search Engine Optimization (SEO)
The demand for SEO is very much in different freelancing websites. SEO is a high-paying service where you can earn about $1,000- 2,000 in a single order. There are two types of SEO, including On-Page and Off-Page. Another type is technical SEO, which helps to analyze your website's performance.
Graphic Designing Service
Graphic designing is a very popular and famous freelancing service. Its work is available everywhere. Every new business needs a Graphic Designer to create a unique logo that differentiates it from the other businesses. Here comes the need for a Graphic designer. In Graphic design, you can become a Logo Designer, Business Stationary Designer, Photo Editing for Amazon, and other online work that you can do.
You can charge from $500-$1500 for each order on Graphic Designing. It has a reasonable earning in Graphic design.
WordPress Service
WordPress service is a popular freelancing in Pakistan. It includes website development, speed optimization, Business website design, Health website, and Tech website. Many new businesses are starting, and these need a website. So, this is a long-time earning that you can earn.
You can earn about $700-$1800 for a single project by providing WordPress service. The price range depends on the requirement and the skill.
Video Editing Service
Video Editing Service is also becoming an important part of freelancing in Pakistan. Because many movies and YouTube channels are becoming famous based on the best video editing, you can edit a video as much as possible. It all depends on your professional dealing.
You can earn more than $700 per project.
Social Media Marketing Service
In today's world, Social Media Marketing service has become an important tool for promoting products or brands. So, all multi-professional companies hire professionals to engage with the audiences and promote their products or brands.
A good social media marketing agency can earn more than $1200 monthly.
Best Freelancing Websites in Pakistan
Many freelancing platforms are available in Pakistan on which they can offer their services depending on their skills. These platforms give a medium for freelancers to offer their services on these platforms. That kind of website bridges the seller (a person who wants to sell his service) and the buyer (who wants to buy the service).
Following are the online platforms for freelancing in Pakistan through which you can offer your services to others. Don't waste your time; learn the above skills online and offer services on these platforms:
What are the Benefits of Freelancing in Pakistan?
Every profession or business has some benefits and some drawbacks. But any online business or profession has more benefits because we can enjoy our luxury by sitting at home. Following are the benefits of freelancing in Pakistan.
Flexible Time
The biggest benefit of freelancing in Pakistan is that you have flexible time. You can work whenever you want. If you want to work at night and sleep during the day, you can because you are not answerable to anyone. You are answerable to only those clients who currently have orders with you. So, you have the full luxury of working, and even you can take leaves whenever you want.
Control of Workload
The second benefit of online work is that you can control your workload easily. You can work as much or little, depending on you. Whether you want to work 1 hour or 10 hours depends on you. No one can order you to work more or less. More work means earning more, but no one can force you.
Comfort Work from Your Home
The biggest benefit of freelancing in Pakistan is that you can work from home while enjoying your home's luxury. Even if you are out of the city or the station, you can work by sitting at any appropriate place.
Not Bounded with 9 to 5 Job
The most beautiful thing about online earning in Pakistan is that you don't have to follow a tough office routine. You don't need to prepare and run for office and face heavy traffic and pollution. But you can start your work at your home when you want. There is no restriction to following a strict routine.
All your Profit is in your Pocket
Freelancing in Pakistan is fascinating: all your profit remains in our pocket. You don't have to share the profit with anyone. As in the 9-5 Job, you work for any other person, and a small portion of the profit comes into your pocket.
Learn more Things by Staying at Home
If you do online work, you will have more time to spend with family members and learn new things. In today's world, People are becoming aware of new and different types of technology. So, you can learn more things if you are free and have enough space.
Pros and Cons of Freelancing
A freelancing career in Pakistan has several advantages. Flexibility and Freedom are the key motivators influencing people to start freelancing. As you know, every profession has some benefits and some drawbacks. Similarly, freelancing in Pakistan also has some benefits and some drawbacks.
Pros of Freelancing
Control over your workload
Choice of who you work with
Access to diverse and meaningful projects
Freedom to work from anywhere
Ability to increase our income
Independence of being our boss
Latitude to set your schedule
Cons of Freelancing
You don't receive employee benefits
Your earnings may fluctuate
It would be best if you learned to be your advocate
You can feel isolated at work
You can miss your people's time
You are responsible for each & every aspect of your business
Conclusion
In conclusion, freelancing has emerged as one of Pakistan's most popular ways of earning money online. You earn a reasonable amount of money as a freelancer, which can become a long-lasting career. So, it's also helpful for the country by contributing to the economy of the country. Freelancing in Pakistan offers a flexible and scalable income stream for people with the necessary skills and experience.
Freelancing platforms such as Upwork and Fiverr have made it easy for people in Pakistan to connect with clients. There are many industries and fields in which freelancers can specialize, including Graphic Design, Content Creation, and Software development. So, It is the right time to start freelancing in Pakistan.
FAQs (Frequently Asked Questions)
How much can a Freelancer earn in Pakistan?
The average amount that a freelancer can earn in Pakistan is about 60,000 rupees. The earning depends on your freelancing category and your skill level. If you are skillful, you can even earn millions of rupees.
Why is freelancing the future?
Freelancing in Pakistan is the future because everyone is looking for flexible opportunities that allow them to work anytime from anywhere.
Why is freelancing better than a full-time job?
Freelancing is better than a full-time job because you can easily work whenever possible.
Which field is best in freelancing?
The following are the fields that are best in freelancing:
Web designer or web developer